Prvý realitný fond (The First Real Estate Fund) has again expanded its portfolio with another property
The First Real Estate Fund of IAD Investments expanded its portfolio with a logistics hall with an administrative building in the Pharos location near the Bratislava airport.
On an area of ​​27.933 m2, there are warehouses, an administrative building and a transport depot of the courier company DPD. The buildings occupy more than 7.000 m2. There are up to 51 charging stations for courier cars and two more for the company's customers. DPD wants to deliver parcels in Bratislava exclusively using electric vehicles and the new warehouse infrastructure is ready for this goal.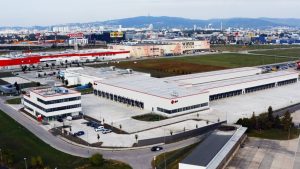 Financial and tax consulting services were provided by TPA Slovakia, technical and environmental consulting by Grinity, and legal consulting by MCL Law Firm. "We highly appreciate the cooperation with proven providers of legal, financial, tax and, last but not least, technical-environmental consulting services. Thanks to these partners, the transaction went smoothly and without unnecessary delays," says Tomáš Trebula, transaction manager of IAD Investments.
The First Real Estate Fund has been offering its investors stable returns without significant fluctuations since 2006. It is the oldest Slovak mutual fund focused on investments in real estate and manages assets that can retain value and achieve income even in the current difficult period. "The regularly adjusted composition of the fund's portfolio together with an active approach to managing rental relationships and cash flows, allows us to continue to provide stable income from properties in the portfolio of real estate companies of the First Real Estate Fund," says Vladimír Bolek, member of the board of IAD Investments and portfolio manager of the First Real Estate Fund. "This property with a high-quality long-term tenant fits perfectly into the portfolio of the First Real Estate Fund ", adds Trebula.
What other properties are in the fund's portfolio?
The geographically diversified real estate portfolio of the First Real Estate Fund consists of various types of real estate, such as office buildings in Bratislava, Slovakia – TWIN CITY A, STEINERKA Business Center, office building D48 in Warsaw, Poland and logistics parks in Slovakia, Hungary and Poland. The portfolio also includes a shopping center in Trenčín, Slovakia and photovoltaic power plants in southern Slovakia. The goal of the fund is to bring positive performance to investors in the long-term with the potential for growth in the value of assets. The First Real Estate Fund is a suitable alternative for investors with a balanced relationship to risk, who are interested in savings for a longer period.
31 years on the market
IAD Investments, správ. spol., a.s. is the oldest Slovak asset management company operating on the Slovak capital market since 1991. As part of its European operations, it manages assets worth more than EUR 1.7 billion, mainly in Slovakia, the Czech Republic, Hungary, and Poland. It currently manages 15 mutual funds and offers its investors individual asset management and savings programs. Among the mutual funds most appreciated by the professionals and public are the First Real Estate Fund, Growth Opportunities mutual fund and the oldest Slovak mutual fund 1.PF Slnko. IAD Investments is part of an investment group Pro Partners Holding, a.s., which operates mainly in the private equity, real estate, and finance sectors in the CEE countries.
You can learn more about the company and its products at https://iad.sk/en/ and about the First Real Estate Fund at https://iad.sk/en/prvy-realitny-fond/
Back to all articles