IAD Investments is again expanding its investment portfolio
IAD Investments purchased nearly 270 000 m2 of land west of the Hungarian capital Budapest intended for the construction of logistics facilities. It will be already a second project in Hungarian development market. IAD Investments joined forces with a branch of one of the largest industrial real estate developers in Europe to develop a completely new logistics park west of Budapest.  
The plots are in a newly developing industrial area near Budapest (15 minutes by car), at an important transport and logistics junction of the highways between Vienna, Budapest, and Bratislava. The land is connected to the exit to the M1 highway and to the city bypass of Budapest, while the area will be directly accessible by city express trains (20 minutes from Budapest) and city buses. "Budapest has a shortage of logistics and warehouse space, and currently the demand for these services exceeds the supply. We are convinced that our investment intention and our decision to team up with a strong partner in the field of industrial development in this project will deliver the expected returns to our shareholders in our Private Investment Fund," says Vladimír Bolek, member of the board of directors of IAD Investments, a.s.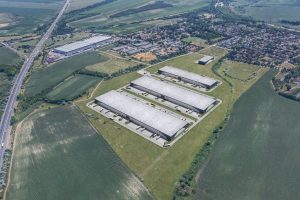 On an area of ​​almost 80 000 m2, there will be 3 logistics halls with storage areas. Preparatory construction work has already begun. The launch of the logistics park is planned in stages and will be fully completed at the beginning of 2025.
"The construction process as well as the subsequent operations will meet the strict criteria of the BREEAM Excellent rating, which focuses on environmental qualities such as impacts on ecosystems, climate change, impacts on hydrology and the consumption of renewable energy sources, as well as the quality of the indoor environment in buildings," adds V. Bolek.
Financial and tax consulting services were provided by Becher&Torma, technical and environmental consulting by Robertson Hungary Kft., legal consulting by Oppenheim law firm and transactional consulting by Axelero Capital Advisors. "We appreciate the cooperation as well as the correct approach and high work commitment, which are important core fundamentals for every successful project, including ours," says Tomáš Trebula, transaction manager of IAD Investments.
IAD Investments, reports. spol., a.s. is the oldest Slovak asset management company operating on the Slovak capital market since 1991. As part of its European operations, it manages assets worth more than 1,7 billion EUR, mainly in Slovakia, the Czech Republic, Hungary, and Poland. It currently manages 15 mutual funds and offers its investors individual asset management and savings programs. IAD Investments, a.s. is part of investment group Pro Partners Holding, a.s., which operates mainly in the private equity, real estate, and finance sectors in the countries of Central and Eastern Europe. You can learn more about the company and its products at https://iad.sk/en/
Back to all articles